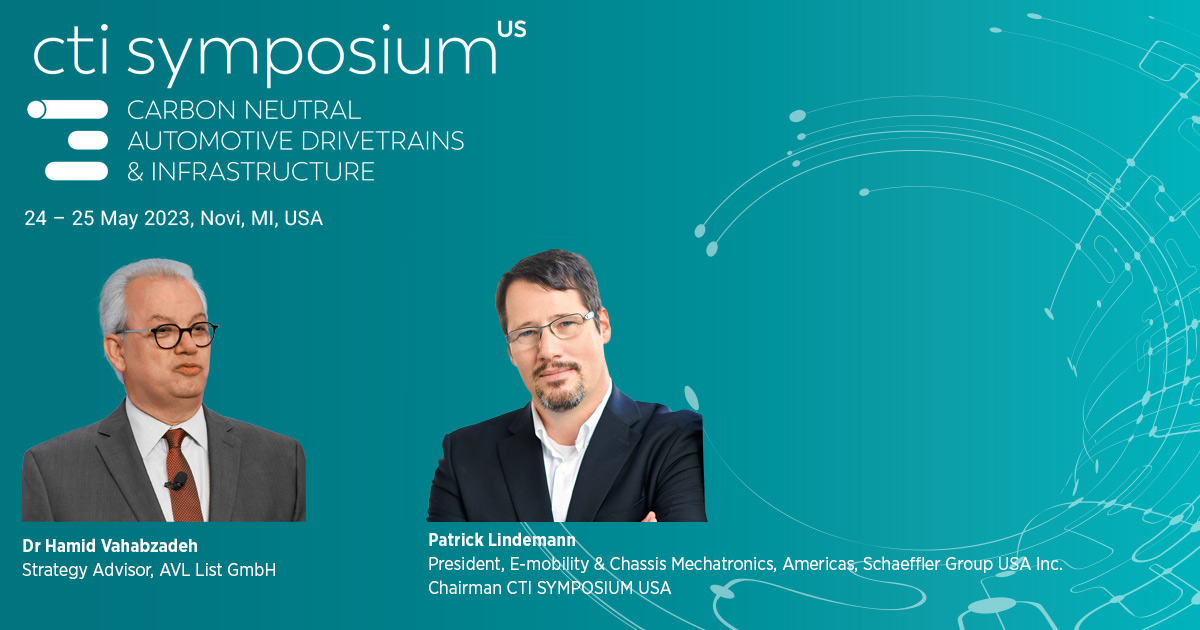 After 7 years, Dr Hamid Vahabzadeh, Strategy Advisory, AVL List GmbH, is stepping down as chair of CTI SYMPOSIUM USA. Hamid joined CTI USA at the very start in 2007. In 2010 he joined the advisory board, where he made his mark as a strong and proactive supporter of the event. In 2016, the year of the 10th anniversary, Hamid became chair of CTI SYMPOSIUM USA and the advisory board.
In this role, Hamid continued to successfully develop CTI USA as a leading industry forum for the automotive drivetrain community in NA. Drawing on his extensive expertise, he regularly brought the most interesting professionals, industry leaders and topics together. CTI wishes to thank Hamid for his dedication, and for many years of successful cooperation.
CTI SYMPOSIUM USA will continue to be chaired by an acknowledged expert in automotive drivetrain engineering. We are very glad that advisory board member Patrick Lindemann, President, E-mobility & Chassis Mechatronics, Americas, Schaeffler, will take over the role effective immediately. Patrick has been committed to CTI USA from the very beginning. In 2007, he was part of the "starting line-up" at our first event in the US. He then joined the advisory board in 2013 and as such, is a great advocate for our event.
Patrick brings decades of industry expertise and understands the challenges that lie ahead. Patrick, CTI and the advisory board members are looking forward to further enhancing the event and content covered, in line with the needs of the industry, and positioning CTI SYMPOSIUM USA as the place to be for automotive experts.
"Together, we can create a sustainable future for mobility." says Patrick Lindemann.
"At CTI SYMPOSIUM USA, we drive progress in passenger cars and commercial automotive transportation. Manufacturers and suppliers are actively demonstrating how to keep pace and staying ahead of customer needs, environmental, institutional and economic demands."
CTI SYMPOSIUM USA
THE EXPERT SUMMIT FOR SUSTAINABLE FUTURE MOBILITY
For more than 20 years, CTI SYMPOSIA have earned the respect of the industry for their competent coverage of topical challenges, strategies and technologies. Today, we continue to drive progress in individual and commercial automotive transportation.
Our events are specially designed to help manufacturers and suppliers keep pace with customers, authorities and environmental requirements.
To reflect the latest technological and strategic changes in mobility, CTI has now updated its logo to express our new focus: Carbon Neutral Automotive Drivetrains and Infrastructure. Both go hand-in-hand, and will define the way we travel and transport goods in future.
From 2023, the event focus will be Carbon Neutral Automotive Drivetrains & Infrastructure.