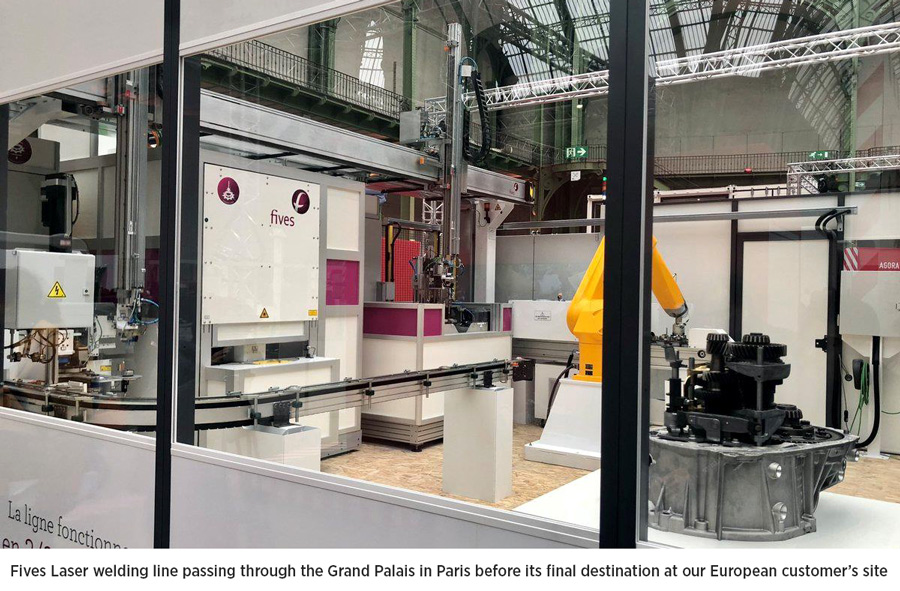 Fives group, 200 years of industrial revolution, from the Eiffel tower to electric vehicles. Fives designs and supplies machines, process equipment and production lines for the world's largest automotive players.
The Laser Systems business line intervenes from the prototyping phase to validate the Laser welding process and optical configurations, to the industrialization of a stand-alone machine, to the worldwide implementation of turnkey series production lines.
Fives has extensive experience in some of the increasingly prevalent industrial Laser welding applications in new e-powertrain components. This includes notably hairpins in e-motors, inverters in power electronics, tabs/busbars in battery cells/modules, gear/shafts and differentials in e-axles and piping in EV fluid management systems.
Fives Laser welding line's flexibility and high productivity allows for the production of up to 16 part types and 2 million parts per year. The lines are a key contribution in meeting increasingly rigorous e-powertrain part and production requirements, such as weight reduction, compactness, thermal/electrical conductivity, cost reduction, increased productivity etc. Whereas alternative welding or mechanical joining techniques often need to compromise between several of these factors.
However, fiber Laser welding can generate unwanted spatters. To significantly reduce spatter formation during the Laser welding process, one development integrated by Fives is innovative multi-core fibers or fiber-in-fiber technologies, permitting dynamic beam shaping. Mastering this state-of-the-art technology, as Fives does, also allows for higher welding speeds, while maintaining high-quality welding seams. It can therefore be increasingly used in e-powertrain applications on critical components such as hairpin welding or deep welding in e-axle parts.
Developments in Laser technologies and scanner optics also allow for the effective welding of highly reflective or dissimilar materials such as copper and aluminum in battery and invertor applications. In addition, scanner optics are key here to effectively weld larger surface areas to increase the contact and connection between components for better electrical conductivity and mechanical strength. Fives also has significant expertise in precise tooling, an important requirement for fuel cell and battery production.
According to the application, Fives has significant expertise in further technologies and key processes, such as vision systems, process monitoring, inspection systems, stacking, gluing and leak testing. Fives, your global partner, with a local proximity.
Contact: Anita Riar, Business Development Manager
Email: sales-laser@fivesgroup.com
Tel: +33 6 72 54 32 71