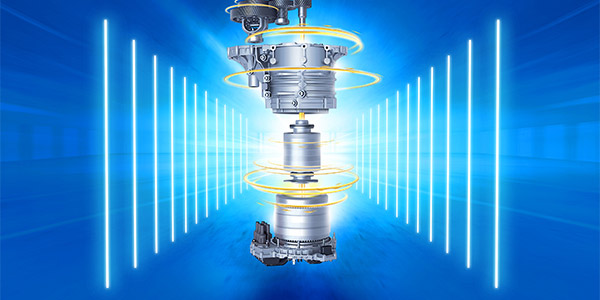 The drive toward electrification is impacting every single area of drivetrain development, and lubrication is no exception. In the case of TotalEnergies, the company has been developing a range of dedicated EV fluids, under the brand Quartz EV-Drive MP, able to act as both a transmission lubricant and motor coolant.
Hakim El Bahi, a research engineer who specializes in electric and transmission fluids at TotalEnergies, summarizes the challenge of creating such a versatile fluid: "It's the art of formulation, of balancing properties that sometimes may sound contradictory. It is a new concept."
There are many benefits to a multirole approach to cooling and lubrication, from both a mechanical and electrical efficiency perspective. "With most EVs currently on the market, the motors are cooled indirectly, using a water jacket," notes El Bahi. This approach has its limitations when it comes to removing heat from hot spots within the motor; increasingly an issue as manufacturers push smaller motors to higher performance levels.
El Bahi highlights the reasons behind this trend toward more power dense, higher RPM motors. "You can increase the torque or you can increase the speed, but if you do want to increase the torque you have to increase the size of your machine. So, instead of increasing the torque, manufacturers increase the speed. But by increasing the speed you're increasing heat loss and with that come problems in cooling." The answer lies in being able to feed the coolant directly to areas such as the motor windings; using the transmission fluid, which is a dielectric, seemed an ideal solution. As El Bahi outlines, "If you can put the coolant in direct contact with the hot spots of the e-motor, you can increase the heat extraction. "We thought, let's use the transmission fluid. It is a dielectric fluid so you can send it to the motor without any fear of short circuits or electrical damage. Now, the fluid is not only a lubricant, it is a coolant as well. That is why we are shifting the vocabulary from lubricants to fluids."
The result is a fluid that is fully capable of lubricating transmission gears and bearings, and electric motor bearings – which, in some vehicle applications, would traditionally rely on dielectric greases – as well as cooling the motor windings. Friction reduction in the electric motor and transmission, combined with greater cooling potential for the motor – enabling higher power outputs to be achieved – will ultimately lead to an increase in overall vehicle efficiency and thus range.
Of course, creating a fluid that can meet these opposing requirements to the correct standards was not easy. Considerations such as the heat capacity of the fluid, its viscosity, wear reduction properties and compatibility with the various components it meets all had to be balanced. Of course, every manufacturer will have its own specific motor and transmission architectures, each requiring a different cooling and lubrication strategy. El Bahi explains that there is scope for customization of the latest product: "The idea with Quartz EV Fluid was to design a kind of platform because we know the direction of trends in electric vehicles for lubrication and cooling purposes. However, when working with OEMs, we can start with this platform and design a tailor-made solution, because each will have their own specific requirements." It is efforts such as TotalEnergies' that will drive the efficiency of next-generation EVs, and the company is already looking at areas in addition to motors and transmissions where its EV Fluids can be deployed.
Total Energies believes that it can take the multirole approach to transmission and e-motor cooling and lubrication even further "The fluid is not only a lubricant, it is now a coolant as well" Hakim El Bahi, research engineer, electric and transmission fluids, TotalEnergies torque you have to increase the size of your machine. So, instead of increasing the torque, manufacturers increase the speed. But by increasing the speed you're increasing heat loss and with that come problems in cooling." The answer lies in being able to feed the coolant directly to areas such as the motor windings; using the transmission fluid, which is a dielectric, seemed an ideal solution. As El Bahi outlines, "If you can put the coolant in direct contact with the hot spots of the e-motor, you can increase the heat extraction. "We thought, let's use the transmission fluid. It is a dielectric fluid so you can send it to the motor without any fear of short circuits or electrical damage. Now, the fluid is not only a lubricant, it is a coolant as well. That is why we are shifting the vocabulary from lubricants to fluids."
Copyright details: © 2021 UKIP Media & Events. All rights reserved.
Citation details: Article published by kind permission of Transmission Technology International 2021.
See www.enginetechnologyinternational.com for more information