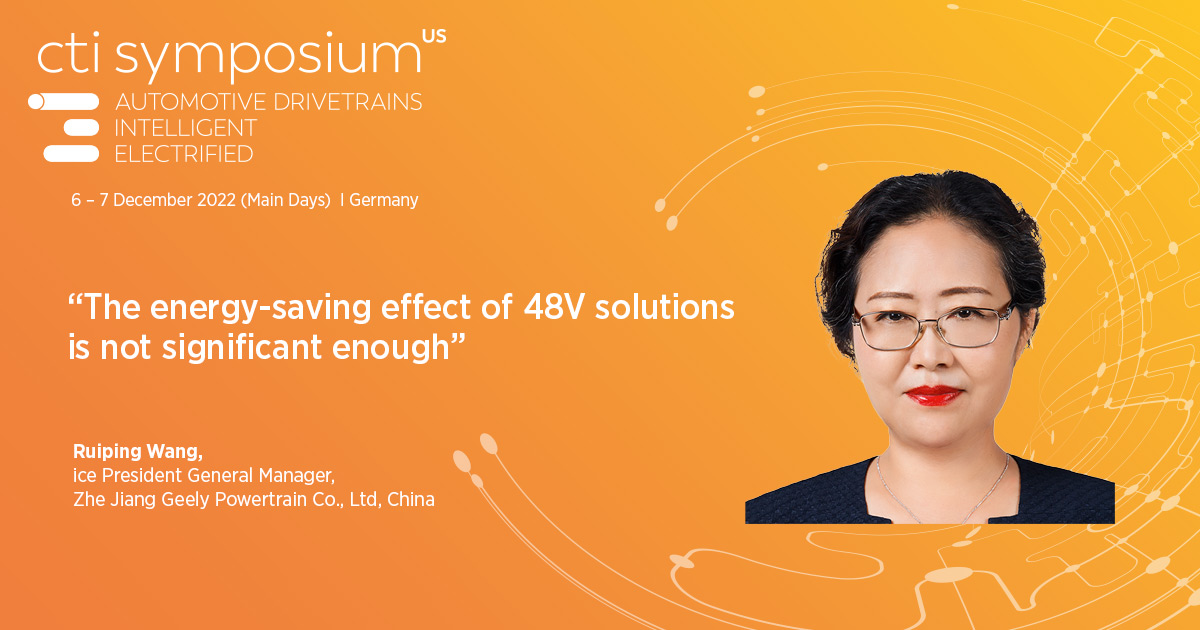 At the CTI symposium in Berlin from 6-7 December, Ruiping Wang, Vice President General Manager, Zhe Jiang Geely Powertrain Co., Ltd, China, will speak about "Geely's strategy and practice in powertrain electrification".
We had the opportunity to ask Dr. Wang some questions beforehand.
Ms. Wang, in how far, do Geely's Chinese powertrain electrification plans open possible market opportunities within Europe?
The investment in Geely's powertrain electrification in Europe is basically synchronous with that in China. Firstly, there is the last generation of Geely's hybrid system GHS1.0. In 2019, Geely began to export GHS1.0 hybrid transmission to the European OEM market. The transmissions Geely exported have reached 200,000 sets until now. At the end of 2020, Geely Lynk&Co 01 with GHS 1.0 was exported to the European market. By the end of September, we have launched around 40,000 Lynk&Co 01 vehicles.
Secondly, there is the new generation of hybrid powertrain system' Leishen'. It has been released at the end of October last year. We will be committed to 'providing the world's leading high-efficiency and intelligent powertrain solutions, and realizing China's powertrains supply to the world.'
Which chances may Geely's advanced full hybrid solutions have in Europe, that so far rather focused on 48V and plug-in hybrids?
Concerning hybrid powertrains, Geely's latest generation 'Leishen' hybrid is a creative structure of electromechanical three-speed DHT, equipped with a high thermal efficiency engine and intelligent control system. 'Leishen' also achieved the European safety function certification ISO26262 ASIL-D, which is suitable for European plug-in use. It can not only save energy but also meet users' requirements for strong power and functional safety. Moreover, the advanced software system can also support vehicle FOTA upgrades.
As to electric vehicles, Geely's next generation 'Leishen' Powertrain has two voltage electronic drive series with 400V and 800V. They can offer various output powers to vehicles. It can meet various use scenarios of European electric vehicle users. There are opportunities for both component and vehicle export.
When we speak of 48V solutions, there are technical limitations and the energy-saving effect is not significant enough. To focus on the Chinese and European markets, we are going to devote more resources to HEV, PHEV, and EV as they have more opportunities.
How important is the further development of high-efficiency engines for Geely, also for other markets?
Regarding technical aspects in connection with hybrid vehicles, high-efficiency engines are an enabler for lower fuel consumption. Compared with EVs, these hybrid vehicles don't cause range anxiety but still enable higher economy for their users. Another aspect is that the cost of electricity varies much in different regions of the world. The development of high-efficiency engines can provide more economical choices for users who have high electricity costs, who do not have convenient charging facilities or who prefer fuel vehicles. These engines will also be helpful for Geely to serve the world.
Thank you for these insights, we are looking forward to your speech in Berlin.
Questions: Gernot Goppelt