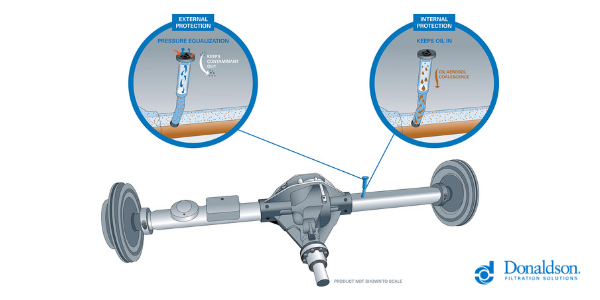 The drivetrain is a vehicle's muscle. During normal operation, components such as axles, transmissions, and power transfer cases undergo rapid differential pressure changes that can stress the seals and gaskets of their protective enclosures. These housings must have a way to exchange air with the environment while preventing the ingress of water, dirt, and debris that can harm lubricants and erode critical metal parts.
Drivetrain (also known as powertrain) venting performs this dual function: keeping out contaminants while equalizing air pressure in and around sealed enclosures. Venting is designed to help extend drivetrain life.
There have been significant improvements in venting technology in recent years. Innovative membrane vents developed specifically for powertrains by Donaldson are designed to deliver important advantages:
Compact, standard sizes that reduce installation labor, time, and complexity;
An oil-coalescing pre-filter to improve vent performance and functional life;
Multiple attachment options for a wide scope of manufacturing requirements; and
Core technology that can be modified for custom applications.
The Challenge of Differential Pressure
First, it's helpful to review why differential pressure is a constant threat to drivetrains. Inside the sealed enclosure around an axle or transfer case, air volume expands and contracts as temperatures change—many times a day for a typical vehicle. When commuters start their cars on cold mornings and begin the drive to work, for example, friction in the drivetrain rapidly heats and expands the air inside sealed components. If heated vehicles encounter cold road conditions, conversely, heated air rapidly cools and contracts.
With enough force, differential pressure can deform the housing and compromise seals, admit contaminants, or allow undesirable fluid leaks. While, in theory, a simple opening in the housing would relieve pressure, a membrane vent provides a protective barrier while allowing the component housing to "breathe."
Conventional Vent Design
For decades, the prevailing powertrain venting method has been threading a rubber or plastic vent breather tube from the component to a level above the water fording line, and ending the tube with a jiggle cap. The semi-closed tube functions much like a snorkel, allowing air exchange in and out.
The chief drawbacks of this solution have been the length of tubing and its complex installation. Requiring clips, clamps, wire harnesses, frame members, and tubes up to 3 m or more in length, routing involves considerable time and labor during manufacturing and service. Correct installation can be challenging and it can be difficult to standardize across different vehicle models. If the tube vent is not properly capped, oil aerosol can collect at the outlet and on nearby surfaces, producing the unwelcome drip visible on garage floors and parking lots.
Simple Direct-Attach Vents 
A newer alternative to breather tubes for powertrain venting is gaining adoption: a direct-attach vent. Donaldson has introduced two new powertrain vents (PTVs) that fit right into a drivetrain component: the Hose-Fit PTV, applied to the end of a vent tube or hose, and the Screw-Fit PTV, which screws into a powertrain component to provide a lower profile.
While the vents resemble simple plastic caps, inside is an advanced ePTFE membrane engineered to filter out dust, debris, and liquid contaminants. The membrane vent meets IP69K water ingress protection ratings. Because of their water-repellent properties, Donaldson vents help protect powertrains from water intrusion if the vehicle breaches the water fording line during operation.
The Donaldson PTVs reduce the length of venting hose from as many as 3 m to 5 cm or less, simplifying routing during installation. The Hose-Fit PTV is compatible with conventional vent tube connectors, so no modification is required. The alternative threaded Screw-Fit PTV attaches directly to housing and eliminates the short vent tube entirely.
Both the Hose-Fit and Screw-Fit powertrain vents from Donaldson have durable, automotive-grade construction, with secure caps that allow for fast and secure assembly. This design allows standardized installation across multiple vehicle models. Based on user feedback, standardized vents reduce the chance of errors during assembly, compared with conventional tubing, and support lean manufacturing principles.
Donaldson Powertrain Vents help protect critical components by keeping contaminants out and keeping oil in.
Importance of Membrane Protective Pre-Filters
To perform optimally, a direct-attach powertrain vent membrane needs to remain free of oil residue. The biggest threat to venting is heavy exposure to lubricants, which can cause a build-up of oil film that reduces permeability. For this reason, it is very important to design a coalescing pre-filter into the vent, to protect the main membrane from oil fouling.
Other vent manufacturers have used sorbent filter media for this coalescing pre-filter. Donaldson takes a fundamentally different approach, employing our proprietary oleophobic Synteq™ media. Sorbent filter media is known to wick oil and saturate, while Synteq media repels oil and, in fact, meets oil repellency ratings up to 8, per AATCC 188-1992.
By trapping maximum excess oil at the coalescing stage and shedding it back into the powertrain component, Donaldson's proprietary pre-filter media supports high membrane vent performance and service life. Synteq is the same technology used in Donaldson's Blue® lube filters, engineered for the heavy-duty engine industry. Donaldson has more than 100 years of experience in demanding vehicle filtration.
Customized Design and Integration
No two powertrain venting needs are exactly alike. To provide more versatility, Donaldson is the first to offer two direct-attach vent styles—the Hose-Fit PTV, which attaches to a vent tube or hose, and the Screw-Fit PTV, which threads into the powertrain component. Both can be readily integrated into most powertrain configurations.
In addition, Donaldson regularly modifies its core venting technology for custom applications, recently doing so with leading automotive and off-road OEMs. Multiple membrane options with varying permeability and water protection levels can be customized, as well as housing size, color, and integration methods. The company's collaborative engineers and project managers are dedicated to meeting highly specialized customer needs, and they work closely with OEM teams throughout the design, testing, and implementation process.
Conclusion
Powertrain venting is crucial to the performance and reliability of a vehicle. Vents help protect components from harsh environments and mediate pressure changes that can stress housing seals and gaskets. A robust, oleophobic coalescing pre-filter has a direct impact on the life and performance of the main membrane vent.
An advanced powertrain vent design is available from Donaldson, a recognized leader in lubricant and vehicle filtration. The vents are available in compact direct-attach designs that can be modified for custom applications.
To manage manufacturing costs as well as the long-term performance of a powertrain, it is important to work with a partner that specializes in filtration—one that can help ensure seamless integration of advanced venting technology into the design of a powertrain system.
Author: Dustin Waller, R&D Project Engineer, Donaldson Integrated Venting Solutions, dustin.waller@donaldson.com