JJE's New 300kW SiC EDM with the World's First Bi-stable Electromagnetic Locker
The development of the electric drive module continues to trend towards higher performance, power and efficiency with improved NVH characteristics all while integrating functional features such as differential lockers and disconnects. Jing-Jin Electric (JJE) is bringing this functionality matching the various requirements in the market with its latest Silicon Carbide (SiC) EDM. The system features a hairpin motor with 300kW peak power at 400V and a torque output level up to 6000Nm which is driven by JJE's newest SiC inverter. As an additional feature, the system includes the world's first DirectFluxTM bi-stable electromagnetic differential locker (eLocker).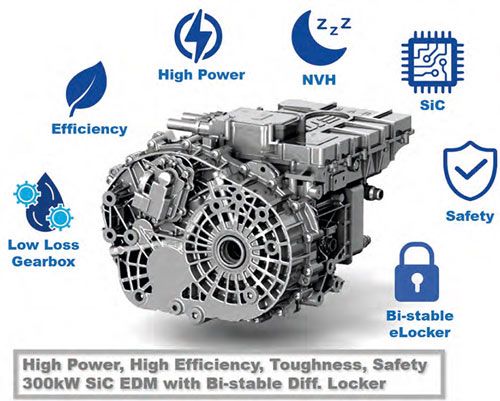 Figure 1. JJE's Newest 300kW, 6000Nm SiC EDM with DirectFluxTM Bi-stable eLocker
High Performance 3-in-1 EDM System
The system efficiency is remarkably improved by applying multiple advanced technologies. An active lubrication system lowers the churning loss while the water and oil cooling system increases the
motor's overall performance. A highly integrated design eliminates several bearings and seals, helping the EDM package within a smaller environment and further reduces mechanical losses. Applying
these advanced technologies allows the EDM's system efficiency to achieve 95.26%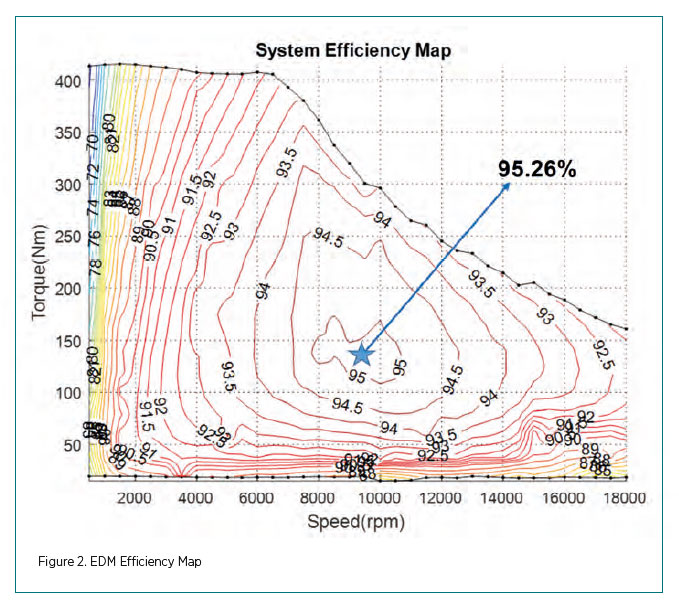 For the cooling system, the EDM continues to feature JJE's water and oil combined cooling technology which provides 160kW continuous output power sustained into the motor's high-speed range.
Water flows through the cooling channel within the water jacket which provides cooling to the stator core and windings. The oil cooling system includes oil spray using a distributing ring located at the
winding end as well as oil splash through the hollow shaft. This unique combined technology increases performance by 11% when compared to water cooling alone and 8% compared to oil cooling.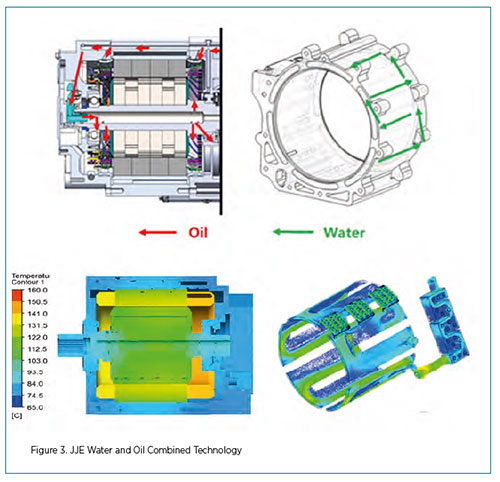 The EDM utilizes an active lubrication system which allows the gearbox mechanical churning losses to be reduced by 30%. This improvement is achieved by lowering the ATF's level within the EDM allowing most of the gears and bearings not to soak in the ATF during operation.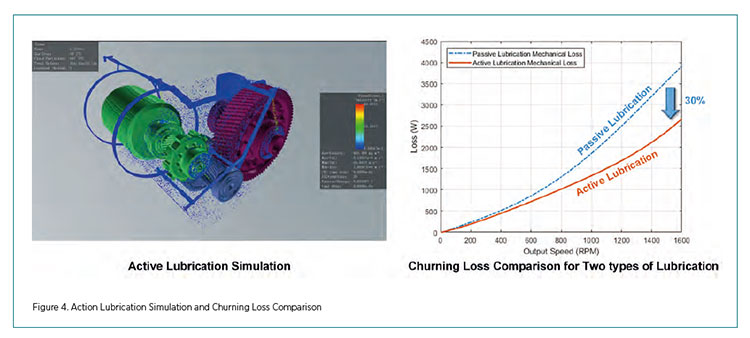 JJE utilized a system level approach when analyzing NVH characteristics. By considering mode shape, gear order, bearing order, JJE was able to avoid overlapping noise orders for the different  rotational parts. This allows the EDM to maintain low noise levels at all operating speeds. The motor incorporates JJE's patented Interior Acoustic Shied (IASTM) technology, which effectively dampens high frequency noise utilizing dampening materials injected into motor's housing. The addition of this technology allows the motor's noise to be reduced by 5 – 10dB in mid-speed and 10 – 15dB at  high speed.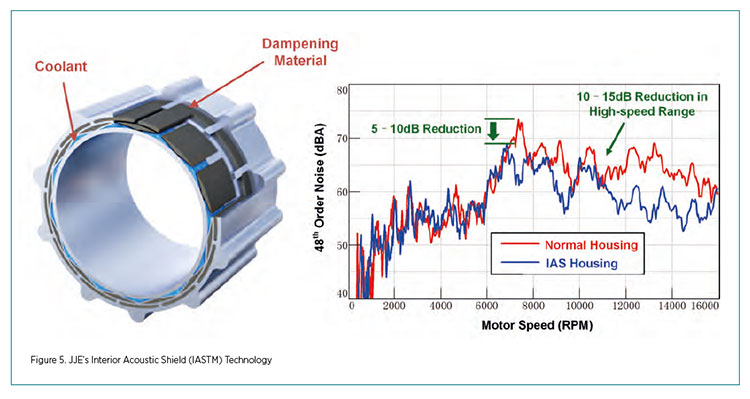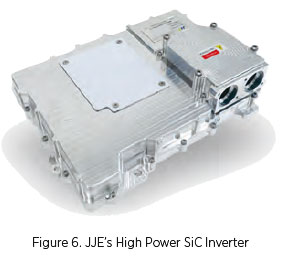 The EDM uses JJE's high-end SiC inverter which features 47kW/L power density with up to 460kW of peak power. Efficiency of this inverter reaches 99.5%. Motor control, differential locker control and system control are developed using ASPICE processes, and includes ASIL-D level functional safety and Cyber Security.
World's First Bi-stable Differential Locker
As a high-end EDM for off-road vehicles, pick-up trucks and SUVs, the differential locker plays a key role in performance. JJE introduces the most advanced electromagnetic technology in this differential locker application called the DirectFluxTM Bi-stable Electromagnetic Dog Clutch (Bi-stable EMDC). This technology brings an increased safety level when compared to the mono-stable electromagnetic clutch. With over a decade of development on the electromagnetic clutch, this generation is able to overcome limitations of existing designs in the market. Coils have evolved into smaller solenoids and magnetic circuits are further optimized to reduce flux leakage. Most importantly this clutch is Bi-stable – meaning it uses permanent magnets to hold the clutch in its engaged position, while still allowing the electromagnetic coil to "push" the clutch plate away while disengaging. As the clutch can selfhold
at both engaged and disengaged positions, there is no need for the holding current that a mono-stable clutch requires. The operating current curve illustrates the difference between the mono-stable and bi-stable designs. For the bi-stable clutch design only a current pulse is required to switch the clutch's state (see Fig. 7).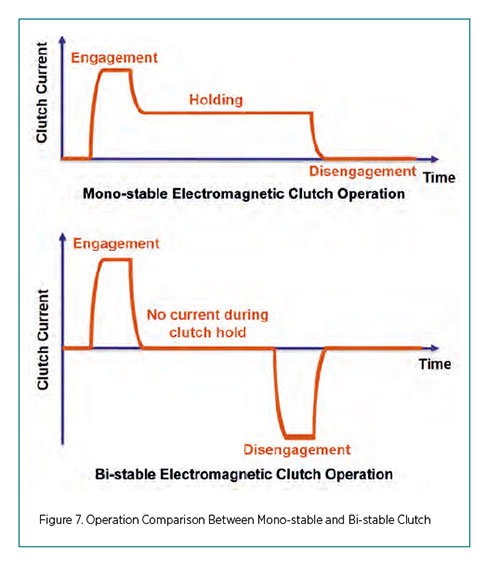 The differential locker featured with this bi-stable EMDC technology is mechanically fail-safe. In the event of a critical electrical or control fault the locker driven by bi-stable EMDC will eliminate a sudden loss of wheel torque which is critical during climbing maneuvers or while operating on low traction surfaces.
The Bi-stable technology nearly eliminates energy consumption as there is no current needed during engagement and operates 3-10 times faster than competitor's products available in the market today. This differential locker has been tested on high-end off-road vehicles in winter and summer tests and produces remarkable performance and durability during these tests. JJE's newest 6000Nm, 300kW Silicon Carbide EDM with bi-stable differential locker will be launched into production in 2023 for a high-end 4×4 SUV produced by a leading OEM and will feature over 100% gradeability.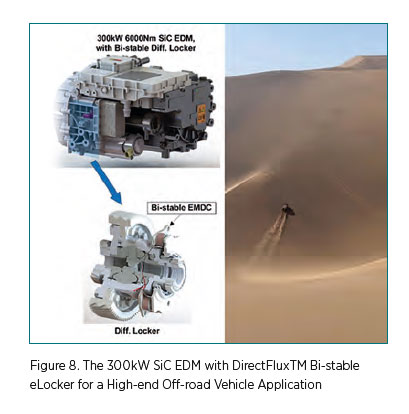 "We are excited to introduce this enhanced 3-in-1 electric drive system with Silicon Carbide inverter, higher efficiency, more powerful cooling and fast, secure differential locker",
says Ping Yu, JJE's Founder, Chairman and Chief Engineer.
"This EDM will help JJE maintain our leadership in high performance eDrive systems, and uniquely serve customer's needs in continuous high speed or towing, demanding NVH performance, as well as differential locking."