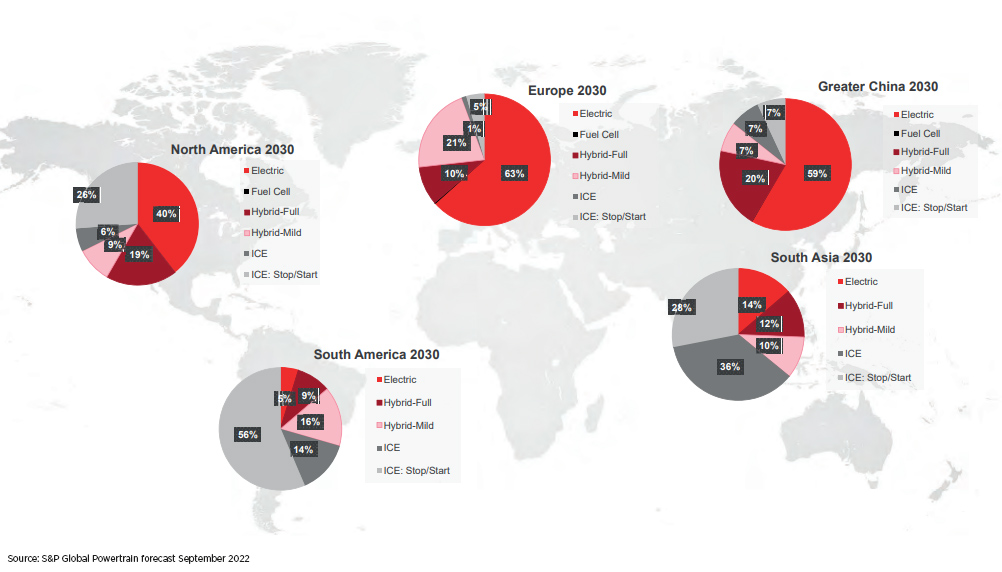 The fragmented situation around the world
A. Saboor Imran and Romain Gillet, S&P Global Mobility (formerly IHS Markit | Automotive)
The regional propulsion mix is a subject of multi-dimensional, complex, and interrelatedness with various sensitivities. It is based on factors such as compliance, regulations, policies, industry perspective, consumer behaviour, and technology developments.
Propulsion strategies are now governed by an increasingly complex set of interactions and influences whose impacts vary across the regions. The aim is to speed up the transition to electric cars and fight climate change. To that end, three regions (EU28, Mainland China, USA) have adopted some stringent regulations for the years to come, leading to more rapid changes within the local powertrain trends. In order to comply, carmakers competing in these markets, have to roll out specific product strategies relying essentially on electrification.
The deviation of BEV across these regions is immensely different based on each local factor. By the end of this decade, the EU BEV rate is projected to reach more than 60%, whereas Greater China would be close to 50%. North America is also catching up with the pace of the EU and Greater China in electrification adoption. So far, the expected production share is around 40%. However, at the global level, we will likely observe a 2-speed electrification development, with those three regions being far ahead of the others due to the lack of stringent regulation elsewhere.
As a consequence, the latest volume projection anticipates more than half of the Global light vehicle production to be Electric cars as soon as the early years of the next decade
Source: S&P Global Powertrain production forecast September 2022
*ICE Based PWT = Internal Combustion Engine + Mild Hybrids + Full Hybrids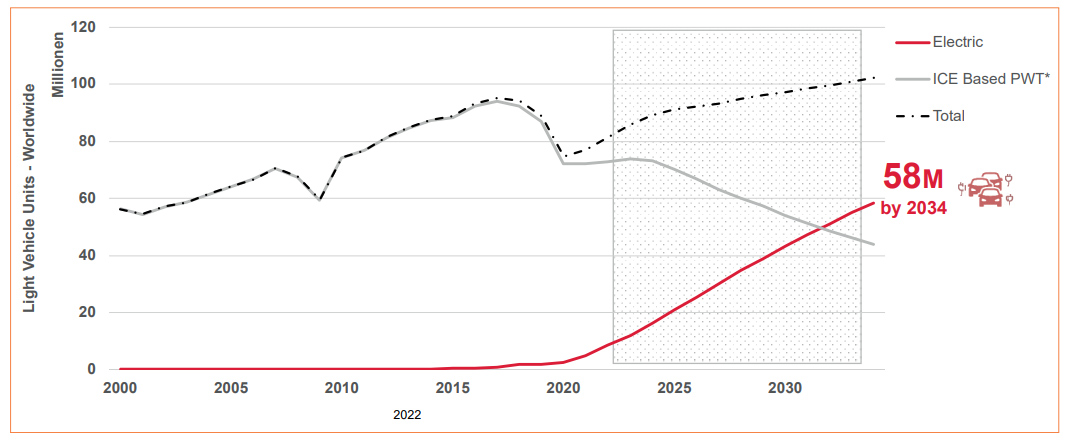 Focus on EU – The projected impact of the revised regulation outlook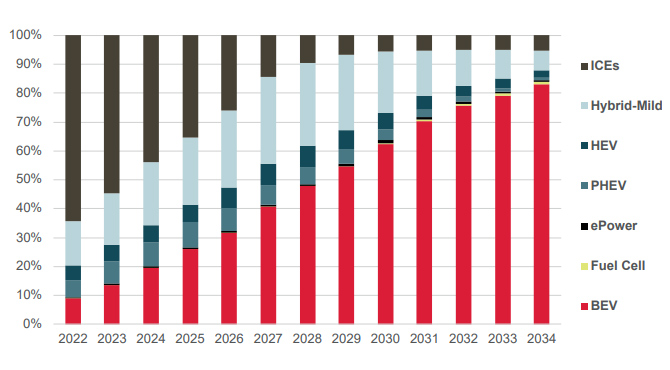 In Europe, the predominant factor behind this massive shift is the regulatory framework. The European convergence towards electrified powertrains is the result of two types of legislation:
CO2 reduction, trajectory to mitigate climate change
Pollutant Emission standards, to tackle the local pollution matters
Following the CAFE (Corporate Average Fuel Economy) CO2 framework revision with the introduction of more stringent targets in 2020, each Carmaker will further see their specific targets being revised downwards again for 2025 and 2030 with -15% and -55%, respectively. Consequently, the powertrain strategies favor BEV adoption as it would not be possible for carmakers to comply without a high level of electric cars within their fleets. Furthermore, with the recent decision by the European Union that carmakers should achieve a 100% cut in their CO2 emissions by 2035, there is no other way for the OEMs but to scaling-up on electric vehicles.
Source: S&P Global Mobility Powertrain Production September 2022
Zero-emission technologies to decarbonize mobility
From the projected production outlook, around one in four cars produced in 2025 will be electric before  accelerating strongly in the second half of the decade to reach almost two in three by 2030 to provide enough BEVs to the relevant markets to comply with the CAFE targets. This massive volume growth will also be supported by a substantial ramp-up of dedicated BEV platforms to underpin these new vehicles. Therefore, this complete shift in the regional propulsion mix will materialize by a tipping point in 2029, where BEV will become the leading technology against all the other ICE-based configurations.
In order to reach zero-emission fleets by 2035, Fuel Cells (FCEV) could also be a viable alternative to BEVs, featuring tailpipe zero-emission as well. However, projected volumes are still minimal within the forecast horizon as certain challenges remain to scale the hydrogen powertrain properly. The critical drawback here is certainly the lack of existing infrastructure, and it would prove to be an immense challenge to have widespread H2 availability for passenger cars. Also, to contribute to the industry decarbonization path, mobility would need to get access to a low-carbon Hydrogen ecosystem that did not reach the required scale so far. That being said, it should not prevent some pilot programs from being launched (fueled by hydrogen produced by natural gas reforming), particularly in the light commercial vehicle area, which probably offers the best business case for FCEV at the moment in Europe.
As for eFuels, even if focusing a lot of attention recently, the current EU regulatory framework does not offer a clear route as it is not considered a zero-emission technology within the existing EU mandate. On top of that, other industries (aviation, MHCV, off-highway) will likely rely on these developments as part of their decarbonization roadmaps, eventually creating a certain form of competition leading to limited car availability. E-Fuels could anyway have a potential market in motorsport and accelerate the Vehicles-in-operation decarbonization in some markets.
On the other hand, some remaining conventional powertrain shares would remain almost flat from 2029 onwards, primarily driven by some Eastern European production activities (Russia, Uzbekistan, Turkey) and not being destined for EU markets. Indeed, as clear roadmaps for electrification do not exist yet in these markets and in light of the latest geopolitical developments, CIS operations will become more isolated, following its path, with foreseeable very limited electrified volumes within the next 15 years.
Hybridized powertrains as bridging technologies alongside BEVs
While electric cars will represent most of the volumes in the future, the transition period will definitely require alternative options. In waiting for the EV era to reach its full maturity in becoming the mainstream technology, hybrid powertrains (from mild hybrid to plug-In hybrid) must spread heavily across all segments to bring some form of electrification to almost all vehicles.
The hybrid powertrain portfolio will essentially consist of three different technologies – plug-In hybrid vehicles (PHEVs), full-hybrid vehicles (HEVs), and mild hybrid vehicles (MHEVs) – with various associated levels of cost and efficiency.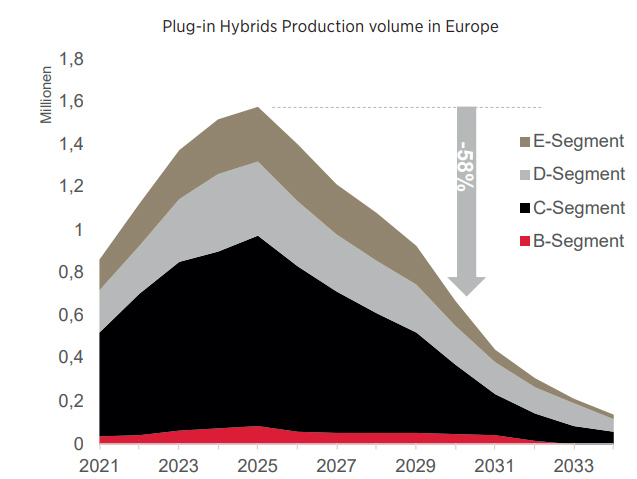 Once perceived as offering the best of both worlds, plug-in hybrids (PHEV) are now facing different headwinds that should eventually even question their availability on many nameplates. Indeed, while playing an essential short-term role as transition technology to bridge customers to the electric era, based on the latest developments, it appears that plug-in hybrids (PHEV) will eventually fall down quite shortly from 2025 onwards. The technology is expected to peak in the mid-decade before strongly ramping down. One of the reasons behind this quick demise is to remain competitive and comply with future regulations. Battery capacities must increase to achieve longer zero-emission ranges, driving additional costs.
Moreover, from the regulation point of view, the utility factor currently used for the homologation process must be revised around 2025 to reflect the real driving emission level better. Consequently, the certified CO2 figure will undoubtedly be adjusted upwards, jeopardizing the current PHEV benefit within OEM portfolios. Volumes should then reduce, still focusing almost exclusively on higher segments.
Source: S&P Global Powertrain Production forecast August 2022
In parallel, full-hybrid vehicles (HEV) will still represent an attractive technology for OEMs to reduce their average CO2, especially in mainstream segments. While it was initially mainly developed by very few Asian OEMs, more carmakers now rely on this technology for the remaining markets,  not transitioning to BEVs at the same cadence. There is also a potential for this technology in other markets (such as Asia and the U.S.A), offering some attractive product development synergies to better leverage the associated cost.
Last but not least, mild hybrid technologies provide a certain efficiency level with lower costs to ICEs. Therefore, it does offer opportunities for carmakers, suppliers, and customers before the complete death of ICE. While this technology alone would certainly not bring enough savings to comply with the new CO2 targets, in covering different features thanks to the 48V electric machine, it helps anyway to reduce emissions slightly. It will progressively become almost standard in Europe. Furthermore, to deal with the extended boundary conditions of the RDE (Real Driving Emission) procedure as part of the EU7 pollutant standard, cold starts compliance might require EHC (Electric Heated Catalyst) device for some powertrains. Hence, 48V systems are likely to be installed to fulfill the power demand, simultaneously creating opportunities for mild hybrid architectures.
Different architectures coexist, but volumes will still be driven by P0 systems in the future. Most of the EU7-compliant engine families should feature such systems as standard. However, some OEMs like Stellantis or Volkswagen will adopt different technology routes with, respectively, P2 and P0+P3a rollover for some of their upcoming platforms and vehicles. Another significant development is the eAWD 48V systems. Installing a 48V drive module on the rear axle, it brings an attractive opportunity to offer an all-wheel drive option also on platforms that were initially not designed for mechanical AWD. Typically Renault and Stellantis are the two groups exploring this technology with their CMF and CMP platforms, with P0+P4 and P2+P4 layouts, respectively.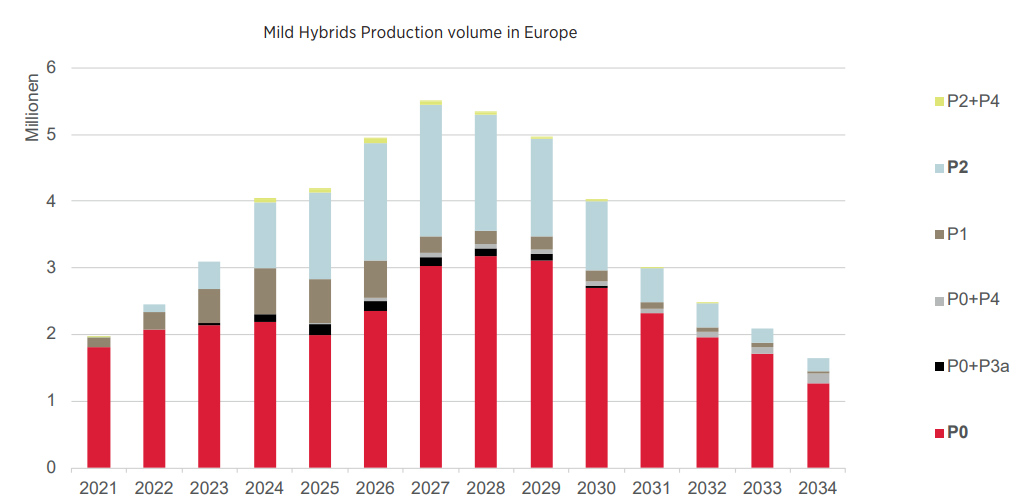 Source: S&P Global Powertrain Production forecast August 2022
A tremendous challenge to the battery ecosystem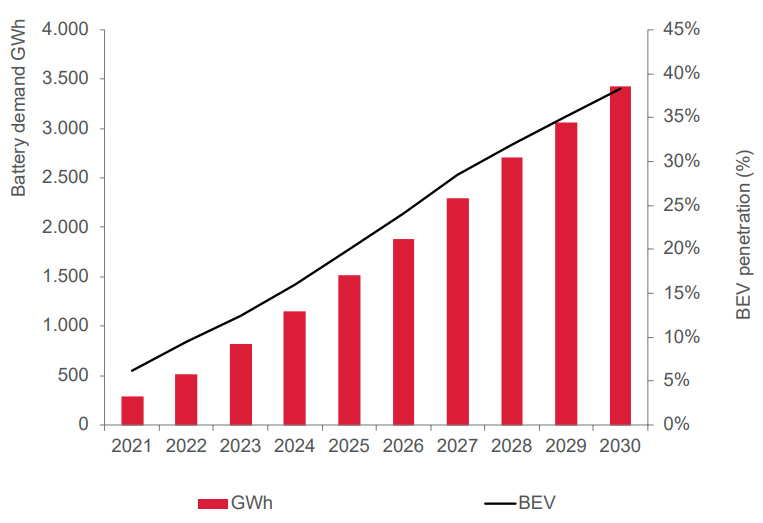 Source: S&P Global Powertrain Production forecast August 2022
Batteries are a key technology to successfully achieving the targets for decarbonization. As manufacturers rapidly move towards the growing electrified industry, more resources are put in place to make batteries more affordable, efficient, and available. Collaborations play a vital role between carmakers, battery cell manufacturers, start-ups, the auto industry, and mobility providers to strengthen Europe's fully electric future further.
As there will be associated risks due to the raw material availability, the right battery pack sizing approach must be adopted to mitigate the shortage threat. As greater efficiencies are achieved (thanks to improvements to energy density, thermal management, optimized cell chemistries, and advanced battery management systems to extend battery lifetime or also with the vehicle platform design), the average battery capacity trendline will tend to stabilize.
However, in parallel, in order to cover all areas of the market and to maintain a certain level of affordability for some vehicles, the range of combinations offered will be extended to both the higher and lower end. Other improvements, such as high voltage architectures, would improve charging time, peak power, copper usage, and the vehicle's overall weight.
At the global level, this will lead to a battery demand exceeding 3TWh in 2030. Carmakers are therefore striking deals with battery suppliers to ensure they can fulfill their targets. Battery cell production must increase, and this scale-up has resulted in a number of new facilities being built or existing ones repurposed as 'Gigafactories'.
There are aspects of lithium-Ion batteries that must be considered and accounted for in the regulatory framework. As we move away from tailpipe emission monitoring towards a broader scope, it will be imperative that BEVs are adequately scrutinized. Concerns around mining emissions, lifetime energy usage and recyclability will likely be included in the new scope. These steps could help mitigate the geopolitical risks associated with the battery ecosystem.

Conclusions
For light vehicles, BEV will be the mainstream option to switch the EU market to zero-emission by 2035. Decarbonization roadmaps from various sectors require different solutions to fulfill each market constraints.
The transition period in Europe will be relatively short, a decade or thereabouts, this might take much longer in more cost-sensitive markets and where regulation is less severe. Although ICE-based powertrains will be phased-out rapidly in Europe, there is a potential to continue production for a considerable time, serving slower transitioning markets.
Europe aims to lead the transition towards net-zero mobility. Achieving these targets will be challenging for car manufacturers as this will require an optimized global carbon footprint based on a sustainable supply  chain in operating markets. The fight against climate change is only possible with widespread renewable electricity to produce the components required for BEV proliferation and be circular on material utilization and waste.
Policy and associated financial risks have served as key market drivers for a low-carbon economy. They will continue to propel the automotive industry's decarbonization progress with additional sustainability frameworks.