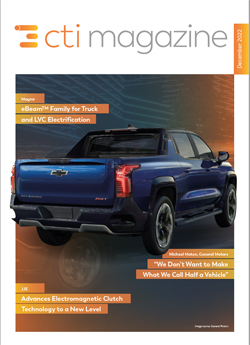 After a two-year break, we are again providing you with content beyond our annual events. The technical papers in this issue cover developments such as bi-stable electromagnetic clutches from JJE
and ultra-compact differentials for edrives from JTEKT European Operations. Magna International reports on the versatile eBeam drive for electrictrucks and light commercialvehicles, while the Technische Universität Darmstadt has developed a twodrive electric powertrain that promises outstanding efficiency in both electric and dedicated range extender operation. Marelli introduces an eaxle family that is intended to cover 90 % of the market.
We also report on last May's CTI Symposium USA, where one much-discussed question was: "What are our electrification strategies during the transition phase until 2030?" On the same topic, we interviewed Michael Maten to hear his company's viewpoint. General Motors, he says, has uncompromising electrification plans: "We don't want to make what we call half a vehicle."
Another game changer is the field of tomorrow's sensor technology and E/E architectures in electrified vehicles, plus the growing importance of in-vehicle smart devices. So to round off this issue, we held a short interview on the subject with our advisory board member Sven Beiker from Stanford University, California.
Our special thanks to everyone who helped make this issue of CTI Mag happen. We hope you enjoy it!
Get your CTI magazine here