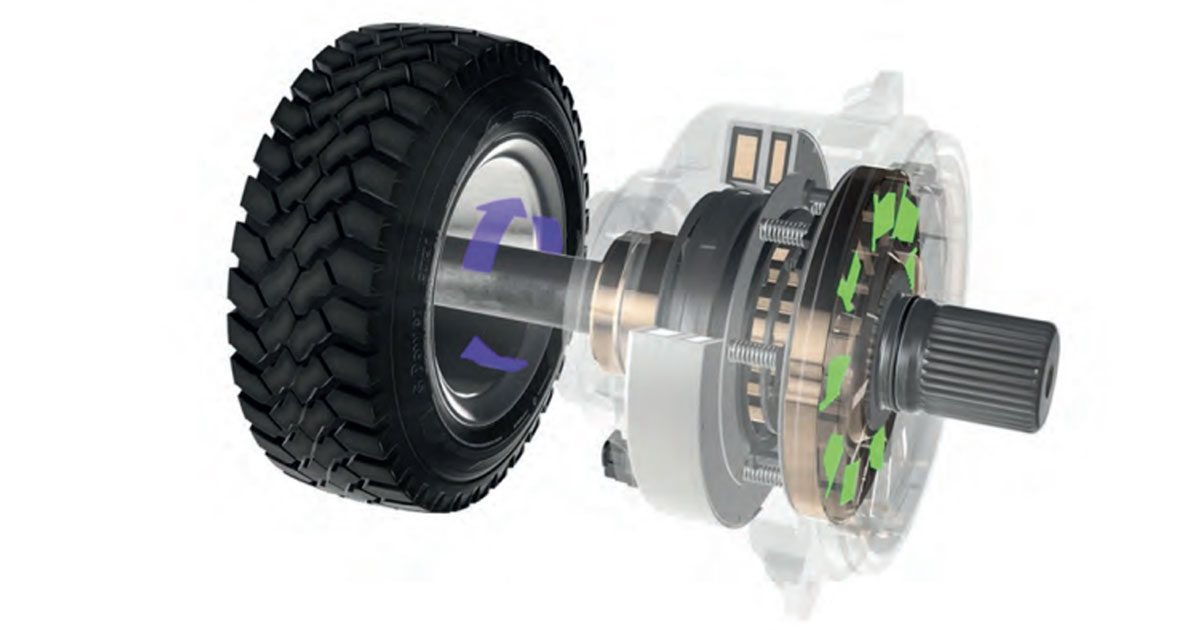 John Jennings, Director of Innovation and eMobility, Amsted Automotive
The future of vehicle propulsion is not simply a trending topic. It's a global reckoning, as well as a global opportunity for revolutionary advances in powertrain and driveline technologies. Next-generation technology is at the forefront, and leading the way is Amsted Automotive with its Dynamic Controllable Clutch (DCC), an Electro-Mechanical E-axle Disconnect system for EVs.
As you read in every issue of CTI Magazine, Electric Vehicles (EV) drivetrain systems are being redefined—creating next-generation propulsion systems—as the EV market grows rapidly. The first EV propulsion systems simply replaced ICE powertrains with electric motors and battery systems. This next generation of EV propulsion systems will need to be further optimized for function, efficiency, range and cost John Jennings, Director of Innovation and eMobility, Amsted Automotive Unlocking the Key to Seamless EV Driveline Disconnects as the EV market scales up. This includes the need for new solutions to facilitate seamless eAWD disconnect with the ability to quickly and reliably shift between disconnected, forward propulsion, and regen or reverse modes. Design flexibility is also required for adaptability at multiple locations between the eMachine and wheels.
In addition to disconnects, next generation EV drivetrains will also require more sophisticated solutions for electronic park-lock, hill-hold and multi-speed shifting, combining the functions of historical ICE transmissions and drivelines. These technologies can be applied to EV passenger cars, light truck and commercial vehicles.
Means, an Amsted Automotive division, has developed controllable disconnect clutch and actuation technology with full disconnect and locking functions, plus the additional functionality for controlled bidirectional one-way-clutch operation. This technology, when applied to EV drivetrains, can provide novel and flexible system solutions for EV disconnects for both eAWD and primary electric drive unit (EDU)
applications. The control and flexibility of this technology can also enable the same disconnect function and advantages for the primary EDU. Additional capability can also be combined with multi- speed shift functions, hill-hold and park-lock features to create novel multi-functional clutch solutions for the next generation of EV drivetrains. The first Means base disconnect for EV application was launched into production in 2021.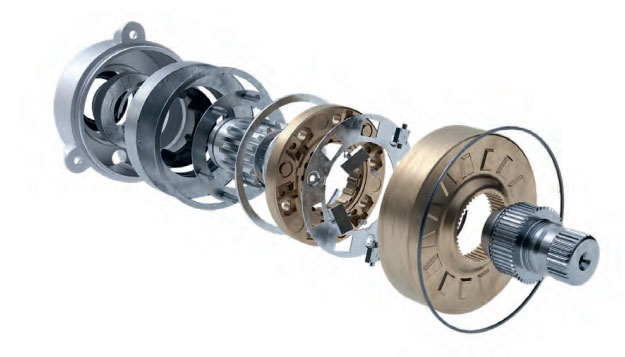 The Dawn of New Technology for EV Drivetrains
Market growth for EVs is exploding at a remarkable pace. Yet there's a significant challenge: OEMs and Tier 1 Automotive Suppliers − both established and new − may not have the capabilities to develop next-generation technology required for electrification. Simply put, traditional ICE drivetrains and electric drivetrains are not the same. Without this ability to adapt to the unique requirements of EV powertrain systems, there may be missed opportunities for new success within the transportation sector.
As emerging products for EV propulsion systems continue to be redefined and reinvented, Amsted Automotive is the leader in the solutions for EV drivetrains, optimizing for function, efficiency, range, and cost, as well as to meet emissions standards and other electrification targets. Means Industries, an Amsted Automotive company, has developed a novel multifunctional clutch technology that's revolutionizing electrification in a very short time: Dynamic Controllable Clutch (DCC) and Electro- Mechanical E-axle Disconnect Solutions.
Design and engineering expertise, as well as agile capabilities in advanced metal-forming and powder metal manufacturing with electro-mechanical clutch design capabilities for electrified propulsion solutions, have put Amsted Automotive at the forefront of advanced EV drivetrain technology worldwide.
ICE AWD Architecture
A typical ICE AWD architecture based on a front- wheel-drive platform includes an engine, a power- takeoff unit (PTU) in the transaxle and a rear-drive unit (RDU) with a coupler. The system has a disconnect in both the PTU and RDU.
This configuration has parasitic losses created by hypoid gear meshing in both the PTU and RDU, fluid churning, bearing and seal drag, and spin loss of the propshaft. In addition to parasitic losses, there are challenges with seamless disconnect and reconnect of the RDU while the vehicle is in motion. The system must match rear-wheel speed with the ICE powertrain.
There is high inertial torque of the RDU. There are also challenges with cold-weather drag, block shift, and shift interruption with dog clutches and limitations on shift engagement time. Finally, by design, disconnect function must be contained in both the PTU and RDU, which poses challenges with packaging.
EV AWD Architecture
EV powertrains provide an opportunity to rethink the traditional AWD architecture. Without the need to physically connect the front and rear drive axles, parasitic losses can be significantly reduced, and packaging issue are simplified. EVs have a dedicated eMotor for each axle, or in some cases a dedicated eMotor for each wheel. This enables the eMotor to control the power and speed directly for each axle, and therefore it can also be used to manage the synchronization and speed-matching for the AWD disconnect & re-connect.
Advantages include flexible package locations for EV drivetrains and intelligent energy management to optimize driving range. The challenges in an EV AWD architecture are NVH − EVs do not mask NVH like ICE powertrains do − and managing AWD regenerative braking mode. All of this creates opportunity for new approaches to disconnect systems that cannot be accomplished with ICE AWD architectures.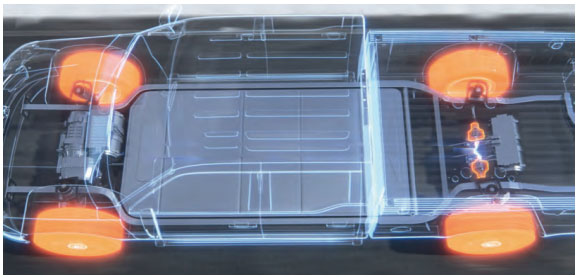 The New EV AWD Disconnect Solution
At the 2018 CTI Symposium in Berlin, Means Industries redefined propulsion system design by introducing two game-changing technologies.
The Electronic Controllable Mechanical Diode (eCMD) is a static, electrically actuated concept that offered the benefits of latching in state without a constant power supply. Hydraulic control was eliminated as were the associated costs and complexities. Power would be consumed only during state transition, thereby reducing energy consumption.
The other new device was DCC. This was a level of advanced technology never before seen in electrified vehicles. Using electric actuation, DCC creates substantial packaging and system efficiencies by eliminating complex hydraulic systems. The dynamic controllable clutch technology coupled with electromagnetic actuation technology can be utilized in single or multi-speed gearboxes for markedly improved EV powertrain efficiencies. There was no need for more packaging space.
The DCC system offers fast, smooth shifting that is managed by eMotor controls, with mechanical engagement always available for eMotor speed matching. It is also very reliable; no blocked shifts. There are no friction elements during a mechanical engagement, with a bistable magnetic latch (on/off) to eliminate power consumption while in-state.
Benefits
Blocked or rejected shifts are not possible
Simplified system controls and reduces failure modes compared to traditional dog clutch
Technology thoughtfully developed and easy to apply, calibrate, and use
5–10% increased vehicle range
Up to 60 kg battery mass reduction opportunity Performance
Response Time
Full travel response time: 17ms
Ease of Use
No block or rejected shifts are possible
Requires less control effort to synchronize state changes (On / Off)
Energy Consumption
Bi-Stable Magnetic latch for ON/OFF positions
No power consumption while in-state
Magnetically latches even with power loss
Torque
2,800+ Nm operating torque (8,000 Nm min. ultimate)
Torque can be scaled as needed
Means developed an integrated controllable bi- directional one-way clutch which enables Reverse and regenerative braking. The system also includes a passive one-way clutch for forward driving operation. In freewheel mode, both clutches are disengaged.
Under power traveling forward, the passive one-way clutch engages to transmit torque to the wheels. When Reverse or regenerative braking mode are required, the controllable one-way clutch is engaged long with the passive one-way clutch.
In the forward propulsion direction, the disconnect and re-connect are automatic and is simply controlled by powering the propulsion motor on and off, just like described in the bicycle analogy.
This technology provides fast shift times − 17 millisecond pre-engagement shifts − for Reverse and regenerative braking. The system is based on proven production technology and is reliable. It eliminates the possibility of blocked shifts or rejected shifts. Mechanical engagement is always available for speed matching the eMotor. It offers the opportunity for flexible EV drivetrain packaging locations by providing modular style and integrated solutions.
And it can improve the efficiency of AWD EVs by as much as 5–10% on the highway because there are no friction elements and the magnetic latching for on/off states doesn't require any power consumption to remain in state.
Next-Gen EV Disconnect with One-Way Clutch Functionality
In order to enable faster AWD vehicle system disconnect shift time, the next generation EV disconnect includes another Amsted Automotive innovation: integrated one-way-clutch (OWC) functionality. This is easy to conceptualize by considering a bicycle. With power applied (pedaling), the one-way clutch transmits torque to the wheel. When power is off (coasting and not pedaling), the one-way clutch overruns or freewheels. When power is reapplied (pedaling again), the pedals ramps up to match the wheel speed and then transmits torque again to the wheel.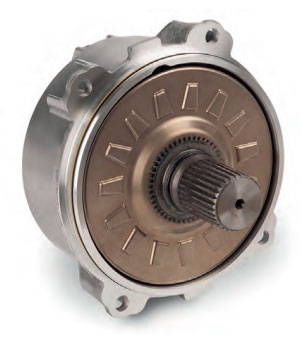 The Next Generation is Here Now
With the accelerated push to rapidly grow the EV market, there may be more innovations in powertrain being developed today than any other time in history. One of the key technologies developed by Means Industries for this market presents great opportunity to solve the issue of seamless eAWD disconnects in EV powertrains and provide much more. The design provides the ability to quickly and reliably shift between disconnected, forward propulsion, and regen or reverse modes. However, the design also enables flexibility for adaptability at multiple locations between the eMachine and wheels. Beyond the driving functions of an eAxle disconnect, the system also enables responsibilities previously provided by traditional ICE transmissions and drivelines such as park-lock, hill-hold and multispeed shifting. The next  generation of EV powertrain systems is here today
Who is Amsted Automotive?
Amsted Industries is a diversified designer and manufacturer of cutting-edge industrial solutions serving the railroad, vehicular and construction markets with a global footprint spanning 66 facilities in 10 countries across 6 continents, with more than 19,000 employees and approximately $4B in annual revenue.
Amsted Automotive was formed in 2021 − bringing together two of its century-old, core Tier 1 and Tier 2 automotive supply business units − Means Industries and Burgess Norton, to form a new and innovative technology team. SMW Manufacturing was added to the group in 2021. The integration provides an expanded global presence with 16 facilities in North America, Asia and Europe to serve global automakers with a robust manufacturing footprint producing more than 100 million components and assemblies annually.
This group combines design and engineering expertise, strategically aligned to be a nimble leader in advanced metal-forming including powder metal manufacturing with electro-mechanical clutch design capabilities for electrified propulsion solutions, building on integral roles in global advanced automatic transmissions designed in North America, Europe, and Asia.